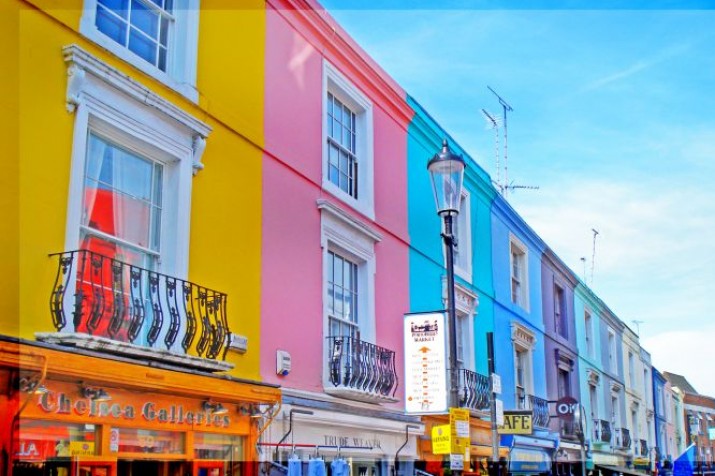 Vibrant in every way
A little about
Notting Hill
Notting Hill is a district in the Royal Borough of Kensington and Chelsea in central London. It is a cosmopolitan district known as the location for the annual Notting Hill Carnival, and for being home to the Portobello Road Market. Notting Hill is one of London's most desirable areas. You can find everything from world-famous events and restaurants, to cutting-edge galleries and theatres in Notting Hill.

The history of
Notting Hill
The origin of the name "Notting Hill" is uncertain though an early version appears in the Patent Rolls of 1356 as Knottynghull, while an 1878 text, Old and New London, reports that the name derives from a manor in Kensington called "Knotting-Bernes,", "Knutting-Barnes," or "Nutting-barns", and goes on to quote from a court record during Henry VIII's reign that "the manor called Notingbarons, alias Kensington, in the parish of Paddington, was held of the Abbot of Westminster." The area in the west around Pottery Lane was used in the early nineteenth century for making bricks and tiles out of the heavy clay dug in the area. The clay was shaped and fired in a series of brick and tile kilns. The only remaining nineteenth-century tile kiln in London is on Walmer Road. In the same area, pig farmers moved in after being forced out of the Marble Arch area. Avondale Park was created in 1892 out of a former area of pig slurry called 'the Ocean'.
Businesses in
Notting Hill
Here is a collection of Notting Hill businesses. Clicking on the thumbnail image, or the blue "View Member" will take you to that businesses page. We've included some jump links so that you can easily navigate to different categories of businesses. Those, can be found directly below as icons. Or, there is a list of categories in the menu bar.